GENESSA -- TRAVEL!
GENESSA's Lady G and Lionheart both love to travel. You maybe clicked on this link because you hate vacations? Nonsense!
Lady G, residing in Minnesota, has also resided, within the U.S., in Pennsylvania, New Jersey, Maryland, Virginia, California and New York. She has worked in Washington, D.C. but has not lived in the District. She has visited (earlier alone, later some of these with Lionheart) Maine, New Hamshire, Vermont, Rhode Island, Connecticut, Delaware, West Virginia, North Carolina, South Carolina, Georgia, Florida, Louisiana, Iowa, Ohio, Michigan, Illinois, Wisconsin, Colorado, Nevada, Arizona and Hawaii, as well as passing through Alaska, Tennessee, Kentucky, Mississippi, Missouri, New Mexico and Texas. Outside the United States she has resided in Japan, and spent extended time in England, Scotland and France (and made a few-week visit to France with Lionheart). She has also (again, sometimes with Lionheart) visited Mexico, the Bahamas, Jamaica, Korea, Malaysia, Wales and Ireland, and passed through (sometimes for more than just a moment) Singapore, Dubai, the Netherlands and Switzerland.
Lionheart has resided in Minnesota all his life, and has, within the U.S., visited (with and/or without Lady G) Wisconsin, Texas, Arizona, California, Iowa, Colorado, Nevada, Illinois, Wisconsin, Michigan, Ohio, New Jersey, New York, Pennsylvania, and probably a few western states Lady G, your humble webmistress, can't remember (she'll ask). Likewise he has visited Canada, England, Scotland, the Netherlands, Denmark, Switzerland, Germany, Italy, Israel, Mexico and Jamaica.
Perhaps you would like to read about Lady G's first trip to Europe, an eight-week adventure about a week and a half week into which she discovered the cure for the common cold (break your arm!): A BRETON BLESSÉING
Stay tuned for holiday photos and narrative, but meanwhile, whether you have similar wanderlust, and/or the means to fulfill it (ah, we once did!), you surely will wish to check out our fine sponsors (we really got you some good ones, too):
At the bottom of this column you will find a selection of travel magazines.
Click here to see BOOKS ABOUT TRAVEL.
Click the Magellan banner below for a really good article about carry-on luggage! (It looks like an ordinary advertising banner but the article to which it leads is quite informative, and there are other articles there as well on related topic.)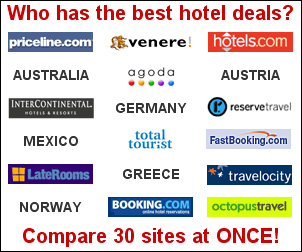 Or find more accommodations at Otel:










---